Welcome to 200 Russell Hill
Escape to Home
A great building begins with immeasurable design, and results in outstanding luxury. Behind the nameplate stonewall and gates of 200 Russell Hill, passersby will be seduced by glimpses of unrivaled grandeur exuding reflections of exclusivity.
A Vision Brought to Life.
Brilliant designer Lori Morris and renowned builder Simon Hirsh will take a dynamic and tailored approach to the property development at 200 Russell Hill, crafting imaginative places worthy of being hailed as a masterpiece.
Secluded Within the Gates of Desire.
It is a natural progression that Hirsh would take his style of comfortable opulence to an urban setting. In a coveted locale surrounded by some of Toronto's most elegant homes, Hirsh crafts the picture of carefree living and luxury vacation homes, at home.
Positioned in Forest Hill's southernmost gradient, Russell Hill is an area synonymous with grace and sophistication. Opposite the lush Nordheimer Ravine and minutes from downtown, 200 Russell Hill offers an urban lifestyle with a spectacular pastoral backdrop. A sanctuary within the city, it is easy to realize why Hirsh chose this enclave to unveil his monument to luxury and leisure.
The five-storey canvas at 200 Russell Hill Road is poised to become the byword in refinement and carefree living, ready to be personalized by its vibrant owners.
Exceptional Suite Finishes (Modern & Traditional).
Optional featured decorative ceilings designed by Lori Morris 10' ceilings in all principal rooms with some lower bulkheads to accommodate mechanical and electrical distribution systems.
Ceiling heights are measured from the concrete floor slab to the underside of the finished ceilings above Thermally insulated energy efficient windows with increased air space for enhanced sound and thermal performance sealed glazed units with designated operable windows and aluminum window frames Baseboards are approximately 9" with coordinated 5" door casing Elegant standard 5" upgradeable to 6" crown moulding in the kitchen, living, dining, foyer, and master bedroom.
7' solid interior doors and top-quality Baldwin lever hardware with privacy sets on the bedroom(s) and bathroom(s).
Interior walls are primed and painted with two coats of designer white quality latex paint Bathroom(s), all MILLWORK, and trim are painted with durable white semi-gloss paint Paints have low levels of volatile organic compounds (VOCs).
Engineered oak and clear-finished walnut hardwood flooring throughout, with tile in bathrooms, foyer, laundry and storage/mechanical room.
The Amenities.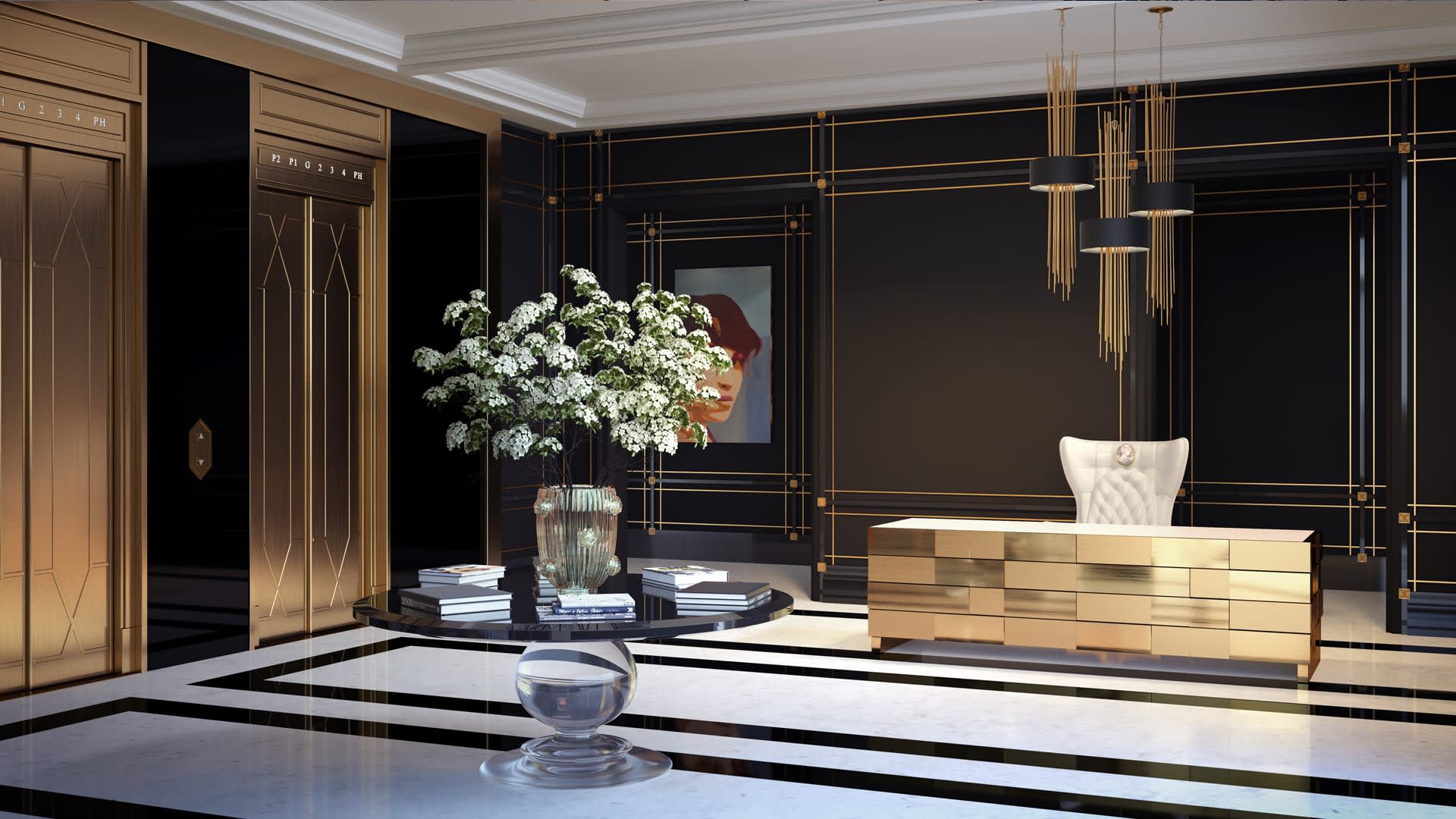 Allowing for a distinctive building that celebrates the area's existing beauty, Lori Morris, Simon Hirsh, and their team, curate a luxurious experience with thoughtfully selected amenities including a gym, spa, theatre room, and wine lounge.